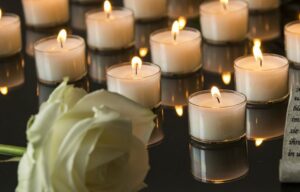 Dorothy Fern Hammons, 92, of Salisbury, MO, died Sunday, July 25, 2021 at Brunswick Nursing and Rehab.
Dorothy was born June 3, 1929 in Triplett, MO the daughter of George Lee and Bertha Fern (Hobbs) Stanley. She was married to Bill Schnetzler in 1950, George Keeting in 1961 and George Leon Hammons in 1982 and they all preceded her in death.
Dorothy was a graduate of Prairie Hill High School, class of 1947. She worked at the Biltwell Clothing Factory, cook at the nursing home, waitress and manager of the American Legion. She attended the United Methodist Church in Salisbury. She loved and cared for all her grandchildren and great grandchildren.
Dorothy is survived by her children Ronald Lee (Susan) Schnetzler of Prairie Hill, MO, Rita Diane (Steve) Hartmann of Salisbury, Charles Roger (Brenda) Schnetzler of Keytesville, MO, Jeffery Robert (Lynne) Keeting of Salisbury, MO, George Anthony Keeting of Salisbury, MO, sister Mary Lou Marek of Salisbury, MO, daugther-in-law Susan Schnetzler of Salisbury, MO, a sister-in-law Dorothy Ann Stanley, Moberly, MO, a special cousin Jan Burdick of Florida, two step sons, 3 step daughters, 16 grandchildren, 27 great grandchildren, several nieces and nephews. She was preceded in death by her husbands, sons John Randall Schnetzler, Patrick Dean Schnetzler, step sons Tom Hammons, Billy Hammons, brothers Ercel Stanley, Herbert Stanley, Edwin Stanley, Bob Stanley, brother-in-law Jr. Marek, grandchildren Dawn Schnetzler, Brent Schnetzler, nephew Mike Stanley, and nieces Janet Teckmeyer and Pam Pope.
Visitation is Thursday, July 29, 2021 from 9:30 -11:00 a.m., with funeral services following at 11:00 a.m Thursday at the Summerville Funeral Home with burial in Asbury Cemetery in Keytesville. Memorial contributions may be made to the Larry's Warrior Foundation or the Ronald McDonald House.