LEXINGTON, Mo. — Lawyers for the Wentworth Military Academy and College Alumni Association have been granted a restraining order against Bank Midwest over the statue of a World War I-era Doughboy erected on the grounds of its Lexington campus nearly a century ago.
Attorney George Hittner told KMZU News that a judge granted the order Tuesday morning during a hearing, but the good news for the Alumni Association didn't stop there. Click below to hear KMZU's Brian Lock chat with attorney George Hittner.
"The alumni association was seeking a temporary restraining order preventing the Doughboy from being sold at auction to the highest bidder," Hittner said. "I am pleased to report that the judge has granted that request for a restraining order, and I am further pleased to report that the alumni association and the bank, meaning Bank Midwest, have reached an agreement where the Doughboy will become the official property of the alumni association."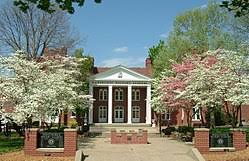 Hittner went on to say that the bank had contested the association's claim of ownership of the Doughboy, however he said that a verbal agreement has been reached for the statue to be signed over to its rightful owners.
Further, a tentative agreement was reached between the Wentworth Alumni Association and Bank Midwest for some items the association claims to own, which Hittner said was stored in the 'Alumni House' on campus.
The legal details will be hammered out in the next couple of weeks, Hitner added, but for now, the Doughboy's future appears to be one that doesn't include the auction block.
As for the future of the Doughboy memorial to World War I soldiers? A few options are on the table, Hittner stated, including at a proposed 'Wentworth Military Academy and College Museum', on the lawn under the cannonball lodged in a column at the historic Lexington Courthouse, or possibly even a place in the National World War I Museum in Kansas City.