Dr. Neil Nuttall, president of North Central Missouri College in Trenton, Mo., since 2005, is officially retiring.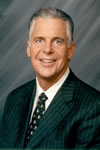 During his time as president, Dr. Nuttall has supervised the incorporation of a technology-rich learning environment, but also the development of many structures on campus, including Cross Hall, Barton Farm Campus, and several improvements to the Ketchum Center. He has also overseen the renovation of Burleigh Grimes Field, and the restoration of Geyer Hall, which is due to be complete in the fall of 2016.
Additionally, he's been an incredibly active member of the Trenton community, such as participating in Rotary, establishing partnerships with the Trenton R-9 school district and other school districts, Trenton Downtown Improvement Association (TDIA), Industrial Development Corporation (IDC), Dockery Methodist Church, Chamber of Commerce, regional and state Workforce Development Board, North Central Business Facilitation Group, and the Heartland Foundation.
Click here to listen to KMZU's Elizabeth Orosco talk with North Central Missouri College president, Dr. Neil Nuttall:
While commending the team of professors and other staff he has worked with, Dr. Nuttall says there is so much more to being an educator than having the know-how.
"An educator has to know how to develop relationships with their students. They have to have a strong work ethic and understand the environmental issues that are affecting our students; there are so many things that go into being a top level professional," said Nuttall. "Knowledge and being able to pass a standardized test are just an element of it. If you talk to someone in production, they're going to say 'Does this person show up on time?', 'Do they get along with their workers?', 'Do they have a passion for their chosen career?'. All of those are things I think are important for a good educator to invest and be able to develop in their students for them to be successful later in life."
In November of 2015, Dr. Nuttall was the guest speaker at the annual Chillicothe Teacher Appreciation Banquet, where he touched more on the subject of what it means to be a great teacher and emphasis on test scores.
"As educators, if we measure ourselves based solely on test scores, we have lost our way," Nuttall said.
He went on to say the perfect role model is Jesus Christ, who he said was "the master teacher". Along with wanting students to be on their level, following their example, using creativity to teach, and being a student's calm harbor, Nutall said a master teacher should be patient, sensitive to the needs of others and, most importantly, must have servant leadership.
"You can't [be a master teacher] if all it is, is relying on a paycheck," said Nuttall.
The decision to retire came to Dr. Nuttall during a time when the college was in a good transition period. After his retirement, he said he plans to "explore teaching at the university level."
With his time as president nearing an end, Dr. Nuttall expressed gratitude to the community and all others who have supported the college throughout the years.
"We're so thankful for the support that we have from our community and from our region. The folks that have come through our college and gone on in life really do keep connected and really have been very supportive of our efforts through the years," said Nuttall. "I think that's one of the things that has really made our college excel and strong, so I'm very thankful for that."