SEDALIA, Mo. – Sedalia Police held a resident without bond, after he resisted a felony arrest early Saturday morning.
According to the Pettis County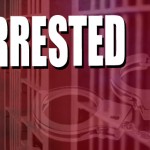 Sheriff's report, Jonathan G. Johnson, 29, of Sedalia was placed on a 24 hour hold shortly after 5:00 a.m. yesterday for allegedly operating a vehicle with a suspended or revoked drivers license, felony possession of a controlled substance and resisting a felony arrest.
The incident occurred around West 7th and South Missouri Avenue.