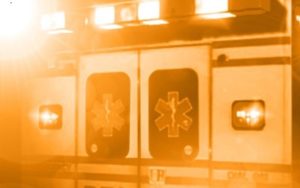 UPDATE: 8:30 a.m. Wednesday, July 15, 2020
Sedalia Police Department has confirmed the identity of the woman who was killed as Carol Barnes, 80, of Sedalia. Her husband, Donald Barnes, 85, is still  listed in serious condition as of Tuesday night, according to the Sedalia Democrat.
Barnes was an 18th Judicial Circuit presiding judge in Pettis County for 28 years, retiring as a senior judge in 2005.
The driver of the truck, Dennis K. Weaver, 62, of Sedalia, had been arrested on suspicion of driving while intoxicated. No formal charges have been filed yet. Weaver has a previous conviction of DWI in 2004, according to Missouri Casenet.
SEDALIA — One woman has died and others were injured when a pick-up truck barreled into a Wendy's restaurant in Sedalia Monday night. The driver of the truck has been arrested on suspicion of drunk driving.
The pickup truck traveled off the roadway on South Limit Avenue in Sedalia around 6 p.m. and crashed through the wall of a Wendy's restaurant where it stopped several feet inside the business, according to a release from the Sedalia Police Department. The truck struck several people before coming to a stop.
Seven  customers were involved in the incident, including an elderly woman who died shortly after as a result of serious injuries. Two adults received minor injuries and were taken to Bothwell Regional Health Center, an elderly male was flown to University Hospital with serious injuries and a 10-year-old sustained moderate injuries and was transported to Bothwell.
The driver of the pickup was allegedly placed under arrest for suspicion of driving while intoxicated and taken to Bothwell. Additional charges may be sought, according to the release, after further investigation.