BENTON COUNTY, Mo. – A Raytown driver was hospitalized after falling off his four wheeler in Benton County Friday night.
According to the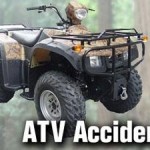 Missouri Highway Patrol, Carey Walden, 42, was southbound on Flintlock Drive at 11427 White Rock Avenue when he fell from his Honda ATV, striking his head on the roadway.
Walden was flown to Research Medical Center with serious injuries.