ANDREW COUNTY, Mo. – A Savannah driver was seriously injured when he rolled his cargo truck in Andrew County Friday afternoon.
According to the crash report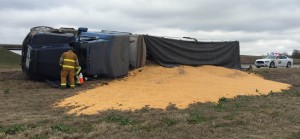 from the Missouri Highway Patrol, the one vehicle crash occurred around 5:40 yesterday on Route T, a mile and a half South of Savannah. The truck driven by Jeremy Davis, 28, ran off the West side of the southbound lane, over corrected off the East side of the road and overturned multiple times.
Davis was transported by Andrew County EMS to Mosaic Life Care for treatment.