SALINE COUNTY, Mo. – An Arkansas truck driver was injured when his semi overturned in Saline County Wednesday night.
According to the crash report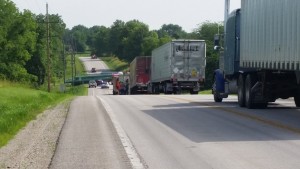 from the Missouri Highway Patrol, Charles Morgan, 32, of Little Rock, pulled onto the shoulder of westbound Interstate 70, at the 68 mile marker, a little before 10:00 p.m. Wednesday night. The load shifted and the trailer and tractor overturned onto it's side.
Morgan was transported to Fitzgibbon Hospital with moderate injuries.