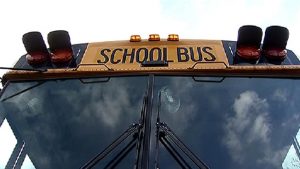 UPDATE: – 6:30 p.m. – The driver of the passenger car has reportedly been killed.  The school bus driver and two students received minor injuries.  The students were treated and released on scene.
LIBERTY, MO – A Wellington Napoleon school bus is reported to have crashed near the 210 interchange on 291 highway south of Liberty.
Also involved in the crash is a damaged passenger vehicle.  Around 30 children were on the bus when the crash occurred, they have reportedly been picked up from the scene.  The bus was transporting students to and from a tournament at North Platte.  A game between Wellington and North Platte has also been cancelled.
Initial reports indicate injuries may be involved, and possibly, one fatality.