HENRY COUNTY, Mo. — Three out-of-state residents are behind bars in Henry County following a traffic stop Sunday evening.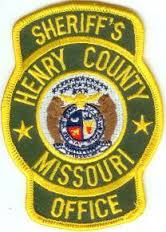 A news release from the Henry County Sheriff's Office indicates that 21-year-old Cypress, Texas resident Taylor S. Mayes; 24-year-old Hagerstown, Maryland resident Jermel Q. Flowers; and Keeneth W. Wesley, Jr., 23, of Las Vegas, Nevada were arrested on drug allegations in Henry County late Sunday night.
All three men are charged with unlawful delivery of a controlled substance by manufacture or distribution and unlawful possession of a firearm. In addition, Mayes is accused of unlawful possession of drug paraphernalia and Wesley faces additional accusations of failure to drive on the right half of the roadway and for allegedly operating a vehicle without a license.
All three men were taken to the Henry County Sheriff's Office to be processed and held. Formal charges are currently pending.