"MAMBA OUT"
CARROLLTON, Mo.- It's hard not to get excited for baseball season. The Boys in Blue look to defend their crown this season and the Kansas City area is more alive this time of year than ever before.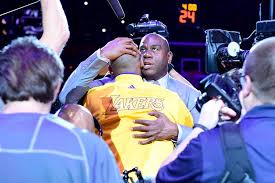 As you may have guessed, there is a huge "but." If you take to social media at all, the talk of Twitter was not about the Royals taking a game from the Astros to improve to 6-2 on the year during the very early stages of baseball season. Some of the biggest trends last night included two names: Kobe Bean Bryant and Stephen Curry.
The "Black Mamba" last night played in the last game of his illustrious career. To cap of his 20-year career, Kobe Bryant more than put on a show for a sold-out Staples Center crowd one last time. He finished the game with a season-high 60 points and steered his team to a 101-96 comeback win over the Utah Jazz.
After outscoring the Jazz by himself 23-21 in the fourth quarter, Kobe checked out with 4.1 seconds left.
Staples Center erupted.
For the last time Laker fans got to witness the greatness of their very own Kobe Bryant.
"I can't believe how fast 20 years went by. Man, this is crazy," Bryant, an 18-time All-Star, said while addressing the crowd after the game. "This is absolutely crazy … and to be standing at center court with you guys, my teammates behind me, appreciating the journey that we've been on — we've been through our ups, been through our downs. I think the most important part is we all stayed together throughout."
Celebrities, former teammates, and fans all over the world poured in support for Bryant.
.@kobebryant scoring 60 points in his last game is the greatest final performance that I've ever seen in sports!

— Earvin Magic Johnson (@MagicJohnson) April 14, 2016
The good times! Best 1-2 punch of all time! Thanks for the memories Kobe #34 #24 #8 #mamba #diesel
Bibb pic.twitter.com/qQzLofdhC9

— SHAQ (@SHAQ) April 14, 2016
Kobe Bean!!

— LeBron James (@KingJames) April 14, 2016
Have a great night, @kobebryant! Thanks for the memories. Looking forward to the future. #MambaDaypic.twitter.com/KAHTX0tDHI

— Bill Clinton (@billclinton) April 13, 2016
As a passionate fan of the game, I can't help but reminisce on what Kobe did for me growing up, and kids alike. I can remember being on the elementary school playground and my friend counting down as if I'm going for a buzzer beater, I pulled up from as far as I could as a 4th-grader, faded-away, and yelled one thing, "KOBE!"
Kobe was my generation's Michael Jordan. He transcended the game with his predator-like mentality and his will to win by any means necessary. I think I speak for a lot of people when I say a kid from Lower Merion High School, through his greatness, made us all question the kind of work we put in to achieve our goals, whatever they may be.
"Mamba Out."
"Seventy-Three":
CARROLLTON, Mo.- What if I told you Kobe Bryant's historic going-away party wasn't the only history witnessed around the world? Last night, the Golden State Warriors, led by their MVP Stephen Curry, reached 73 regular season wins in a rout over the Memphis Grizzlies. Magic number 73 eclipses the former record held by the '95-'96 Chicago Bulls at 72.
The season finale featured more than just win No. 73. Going in to last night's game, Curry needed eight 3-pointers to reach 400 on the season and 41 points for a 30-point average. Reaching those benchmarks seemed a little far-fetched, and yet Curry did it in 30 minutes. Yet again, he made the remarkably difficult look strikingly easy.
Golden State has been on an absolute tear this season. From one of the hottest starts in league history to the countless buzzer-beaters the "Baby-Faced Assasin" blessed us with.
I have to admit that I am a Warriors fan, which makes me 100% bias. But THIS team is arguably the best team in the history of the association. Yes I'm willing to say that, and yes I'm willing to argue.
Let's touch on a few points from this season: (BY ESPN, IN PARTNERSHIP WITH TRUEHOOP)
From April 9 to Dec. 12 of last year, the Dubs won 28 straight, the longest streak in 44 years. And their 54-game home winning streak, which was snapped by the Celtics on April 1, is the longest in NBA history.
Steph has made 39 more 3s over this season and last (688) than Larry Bird did in his 13-year career (649). Curry has hit 107 more in that span than MJ did (581) in his 15 years.
Curry scored 50.4 points per 48 minutes in fourth quarters this season, the highest rate since the league started tracking that stat in 1996. Behind him? Kobe Bryant in '05-06 at 48.9, Kyrie Irving in '12-13 at 46.1 and LeBron James in '09-10 at 45.7.
The Dubs' 3-point percentage this year was 41.6 percent, which is the highest team rate since the 1996-97 Hornets (led by Steph Curry's father, Dell, who made 42.6 percent of his 3s that year).
Curry made 402 3s, a 41 percent increase from the record he set last season (286). That's equivalent to hitting 103 home runs in baseball (41 percent more than Barry Bonds' record 73 dingers) or a quarterback throwing 78 touchdowns.
The Warriors' effective FG percentage, which takes into account 2- and 3-pointers, is 56.3 percent, the highest rate in NBA history.
How difficult it used to be to eclipse 40 percent from 3, 50 percent from 2 and 90 percent from the line all in the same season? Steph's 2015-2016: 45.4 percent, 56.6 percent, 90.8 percent, his second straight season as a member of this exclusive club.
Kobe Bryant wasn't the only trending topic on Twitter last night:
HISTORY has been made! Warriors beat Grizzlies 125-104 and set regular-season wins record, finishing 73-9. pic.twitter.com/MaDXPb2juC

— NBA on ESPN (@ESPNNBA) April 14, 2016
Way-to-Go!! Congrats to GSt Warriors,SKerr&LWalton et al. The journey to 72 wins is a remarkable achievement-very impressive-now get #73.

— Phil Jackson (@PhilJackson11) April 11, 2016
Giving credit where credit is due. Congrats to @SteveKerr and his @warriors on win no. 72. They earned it tonight.

— Scottie Pippen (@ScottiePippen) April 11, 2016
It wasn't supposed to happen. No one will win 73 right? Michael Jordan and the Bulls' seemingly unbreakable feat, broke, and it HAPPENED. Led by a 6'3" 190-pound MVP from Davidson and a second-round tweener manifesting into one of the most versatile players in the NBA, the Golden State Warriors made HISTORY.
As Warriors coach Steve Kerr said after the game, "I'd never in a million years would have guessed that that record would ever be broken. I thought it was like [Joe] DiMaggio's hit streak, really, and I was wrong."
So now the hashtag #QuestFor73 is somewhat a side-note to most spectators. The defending Finals champions are clearly on a mission and I think we all know what means more than records. BANNERS.
Matt Gang is the Sports Director at KMZU 100.7, follow him on Twitter @its_gang_bro and send story ideas to [email protected]