Governor Jay Nixon was present to announce funding of almost one million dollars that will go to the Missouri Valley Head Start in Richmond.
The Governor's Office announced plans earlier this year to award $10 million in Community Development Block Grants and tax credits. These were distributed through the Neighborhood Assistance Program, and will be used to expand access to early learning opportunities across the state.
The early childhood education center first heard about the opportunity in March, and submitted their application in May.
Click to hear KMZU's Sarah Scott speak with Executive Director Pam LaFrenz:
"We just heard last Thursday, that we were going to be asked to do the second phase to it, which is another part where you apply for a particular type of funding," said LaFrenz, "But then, got a call Monday and the Governor wanted to come and make the special announcement today (Friday). So we are thrilled that we are going to be able to build a really nice facility for infants and toddlers."
The new pre-kindergarten center will serve an additional 36 children.
Click below to hear Governor Jay Nixon's announcement speech, introduced by LaFrenz: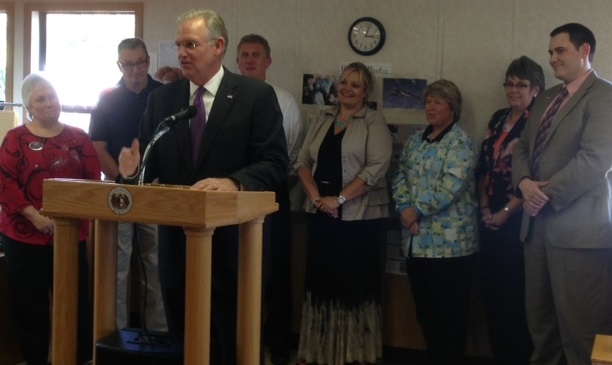 Press Release from the Office of Governor Nixon
Richmond, Mo. – Gov. Jay Nixon today visited Missouri Valley Head Start in Richmond to announce a new investment through the Missouri Start Smart initiative to expand access to quality early childhood education opportunities so that more Missouri children start kindergarten ready to succeed in school and beyond.
"Making sure communities have access to affordable early childhood education programs helps young children succeed in school and helps parents stay in the workforce," Gov. Nixon said. "Educational opportunities create economic opportunities, and that's why early childhood education is a smart investment with a big return."
In January, Gov. Nixon announced that early childhood education would be a central focus of his efforts to continue to strengthen education and grow Missouri's economy. As the first official business of his second term, the Governor met with early childhood education officials, educators and advocates about the importance of improving and expanding access to quality early learning opportunities. After Gov. Nixon proposed increasing funding for the Missouri Preschool Program and Early Head Start in his State of the State Address, the legislature approved an increase of $6.9 million for these programs in the Fiscal Year 2014 budget.
Additionally, the Governor directed the Missouri Department of Economic Development earlier this year to solicit proposals for competitive Missouri Start Smart funding to support the development, expansion or improvement of high-quality early childhood and pre-kindergarten programs throughout the state.
"Business leaders and educators both know that a reliable and trained workforce requires quality early childhood education, strong public schools and affordable higher education opportunities," Gov. Nixon said. "That's why my administration has continued to make targeted investments in Missouri's education system, from pre-k to college. These investments are only possible because we have been responsible stewards of each and every taxpayer dollar, avoiding the risky and unproven fiscal experiments playing out in Washington DC and other states."
During his visit today, the Governor announced that the Missouri Department of Economic Development, through the Missouri Start Smart initiative, will authorize $923,160 in Community Development Block Grant (CDBG) funds and $36,480 in tax credits to provide $72,961 in funding through the Neighborhood Assistance Program (NAP) to assist the Missouri Valley Head Start with the construction of a new 6,594 square foot pre-kindergarten facility serving an additional 36 children in Richmond.
Missouri Valley Head Start is a program of the Missouri Valley Community Action Agency, a non-profit, charitable organization founded in 1965. Today, MVCAA covers a seven county service area and manages a number of community development programs including Head Start and Early Head Start. MVCAA's Early Head Start program won the Missouri Head Start State Collaboration Office's 2012 Outstanding Missouri Head Start Collaboration Award for its partnership with the University of Central Missouri child care centers.
The City of Richmond, the Richmond R-XVI Public School District, and the Ray County Public Health Department have all endorsed the project.
Gov. Nixon has made public education in Missouri a top priority of his administration. Even during the height of the recession, Gov. Nixon worked across the aisle to balance the budget every year without raising taxes or making deep cuts to K-12 classrooms. Math and reading scores have increased on his watch and Missouri's high school graduation rate is now the eighth highest in the nation.