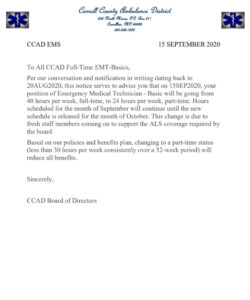 CARROLLTON —  Emergency Medical Technicians at Carroll County Ambulance District were put on notice on Tuesday their full-time hours would be cut nearly in half — starting October 1. The district's 40-hour-a-week EMTs will go to part-time status at 24 hours a week, thus losing their benefits, like health insurance and retirement.
The approximate six full-time EMTs were told in a letter dated Sept. 15 the change is "due to fresh staff members coming to support the ALS coverage required by the board." ALS stands for Advanced Life Support that paramedics, nurses and doctors can provide.
Carroll County Memorial Hospital Executive Director Jeff Tindle was not aware of this issue before speaking with KMZU. However, he says that he cannot imagine what would make the district come to a decision that only makes "a poor situation even worse."
"I'm just dumbfounded," Tindle says. "I can't imagine what thought process went into making that decision based on the fact that we are already short-staffed on the Carroll County Ambulance District, and now we're really going to be short-staffed. I don't know what would possess them to make that decision."
Employees received somewhat of a warning their jobs were on the line in a tersely-worded memo dated Aug. 20. Signed by all six board members, it stated the board plans to hire more ALS staff. "As ALS providers are hired, hours and benefits will be reduced. We hope that our employees understand this situation; however, you will ultimately have to do what's best for you and your family," it read.
The board fired two of its full-time paramedics recently, citing physical and emotional harassment of a current employee and non-notification of those alleged actions to the CCAD board. Those two, Janis Aldredge and Carla Schenk, have obtained attorneys to fight the claims. They were 22-year members of the district, they say.
Whether the rash of staff and hourly changes are based on the new administrator Mario J. Deflice's recommendation is unclear. He did not attend the Sept. 10 CCAD board meeting at the Rupe Center.
According to CCAD's financial budget for fiscal years 2018-2020 provided by the board to KMZU, total payroll expenses are estimated at $924,695 for fiscal year 2020, which ends Dec. 31. It's more than a $183,000 increase from 2019. As of July 31, payroll expenses were at $434,782, seven months into the year. Revenues include $598,591 in property and utility taxes, according to the county collector's office. Ambulance fees, grants and other revenue sources have generated $1.054 million so far this year. Cash carry over is reported at $1.21 million to bring available cash to $2.264 million.