KANSAS CITY, Mo— Environmental Protection Agency Administrator Gina McCarthy says her agency will abide by court decisions on EPA's Waters of the U.S. rule, now on hold by a federal appeals court.
House Agriculture Chair Mike Conaway wasted no time in challenging McCarthy directly on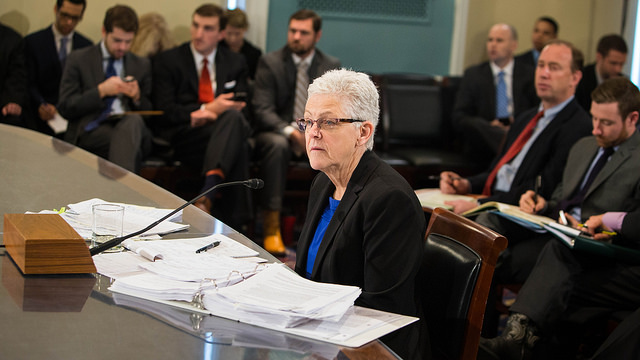 WOTUS—the agency's sweeping expansion of its control of U.S. Waters.
"Do we need to restrict your funding in the appropriations bill to say no money is going to be spent on back door implementation of either the Clean Water Plan or the Clean Power Plan?" Conaway bluntly questioned McCarthy, whom responded directly, "Actually what we're trying to do sir is make sure that the guidance that's currently in place in the Clean Water Rule that was issued in 2008, is implemented as well as we can. We are certainly going to respect the decisions of the court."
The Supreme Court this week froze without explanation the Clean Power Plan to reduce power plant greenhouse gas emissions and ultimately may also have to decide the Clean Water or WOTUS rule.
Pennsylvania Republican Glenn Thompson joined other committee members in accusing McCarthy of ignoring EPA's regulatory impact on farmers, citing recently imposed watershed discharge rules for the Chesapeake Bay, also on appeal to the Supreme Court.
"The Chesapeake Bay TMDL represents a massive seizure of state government power by your agency and will serve as a blue print for regulating water sheds around the nation." Thompson stated, "Now through its standards controls and rigid rolls the agency is setting the stage for taking over many, if not all, land use decision nationally."
No one, including McCarthy, denied the lack of trust between EPA and Farmers. Minnesota Democrat Tim Walz called on McCarthy for some "regulatory humility," a call she said she would "take to heart." However, again and again, McCarthy insisted EPA is doing no more than implementing the law and following earlier court decisions.
Regarding the slowing of the biofuels mandate, McCarthy says EPA is again, following the law.
"I believe we're doing everything that the law says," McCarthy explained, "Which is to get to these levels as quickly as possible but you have to think of factors like, how reasonable it is to achieve these within this certain period."
McCarthy claims EPA's latest Renewable or RFS Volumes push through the so-called blend wall, but argues getting biofuels into the nation's fuels supply is still limited by available blending pumps.