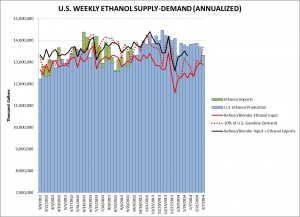 According to EIA data, ethanol production averaged 869,000 barrels per day (b/d)—or 36.50 million gallons daily. That is down 25,000 b/d from the week before and the lowest in eight weeks. Rail transportation challenges continue to suppress production volumes. The four-week average for ethanol production is 893,000 b/d for an annualized rate of 13.69 billion gallons.
Stocks of ethanol stood at 15.9 million barrels. That is a 2.4% decrease from last week and the lowest level of stocks of the year. Stocks are well below the 20-day supply mark for the second week in a row.
Imports of ethanol were zero b/d for the 23rd consecutive week.
Gasoline demand for the week averaged 375.9 million gallons daily, the highest of the year and a 6% increase over last week. Refiner/blender input of ethanol reached 841,000 b/d, down slightly from last week.
Expressed as a percentage of daily gasoline demand, daily ethanol production was 9.71%, marking an 18-week low.
On the co-products side, ethanol producers were using 13.176 million bushels of corn to produce ethanol and 96,983 metric tons of livestock feed, 86,461 metric tons of which were distillers grains. The rest is comprised of corn gluten feed and corn gluten meal. Additionally, ethanol producers were providing 4.53 million pounds of corn oil daily.