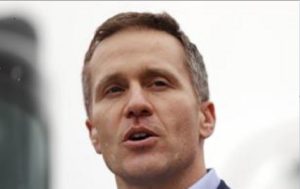 (Jefferson City, MO) — A former gubernatorial campaign is being hit with a $178 thousand fine from the Missouri Ethics Commission.
The St. Louis Post-Dispatch reports the commission announced the fine as it released the results of its investigation into campaign finance violations by former governor, Eric Greitens' campaign. According to the report, it's not believed Greitens "had personal knowledge" of two violations by the campaign.
The Missouri Ethics Commission found "probable cause" that ads paid by a PAC were done "in cooperation" with Greitens' gubernatorial campaign, but not reported as a gift. If the a $38 thousand fine is paid and no future violations are committed, the case will be closed.
The ethics commission found no evidence of wrongdoing by Greitens individually. The commission did say, "However, candidates are ultimately responsible for all reporting requirements of their campaigns,"
Greitens responded to the findings by saying: "I'm grateful that the truth has won out",… and… "they launched this attack because we were fighting for the people of Missouri."