Eunice Laverne Gilliland (Lynn), 89 of Higginsville, Missouri passed away on Wednesday, September 11, 2019, at Meyer Care Center in Higginsville.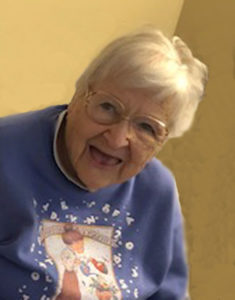 A graveside service with interment will be held in the Calvary Cemetery, Corder, MO at 11:00 AM on Saturday, September 14, 2019. Casket bearers: Scott Beard, Billy Kisner, Rusty Kisner, and Todd Stuerke.
Online condolences may be made to the family at www.hoeferfuneralhome.com
Born Thursday, November 7, 1929 in Waverly, Missouri, she was the daughter of the late Herbert Lynn and the late Flora Ford Lynn.
She married Leonard Stuerke June 28, 1967 and he preceded her in death, She married Charles "Chuck" Gilliland April 23, 1982 and he preceded her in death February 7, 2008.
She worked for the dietary department for the Habilitation Center for eighteen years before her retirement.
Surviving are two sons, Todd Stuerke (Ashley) of Warrensburg, MO, Ronald Kuhn of Kansas City, MO; two sisters, Martha Kisner of Corder, MO and Gloria Sloan of Jerico Springs, MO; four grandchildren, Paige Stuerke, Destiny Stuerke, Brody Stuerke, Aaron Kuhn; one great grandchild, Estelle Parman.
She was preceded in death by her parents; first husband, Leonard Stuerke; second husband, Charles Gilliland; two brothers, Donald Lynn and Herbert Lynn, Jr.