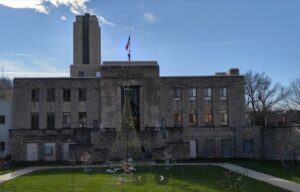 EXCELSIOR SPRINGS — A historic building in Excelsior Springs is getting the help it needs to be preserved.
According to a post on the city's Facebook page, the Hall of Waters was placed on The National Trust for Historic Preservation's 2020 America's 11 Most Endangered Historical Places list, which according to the post is "an annual list that spotlights important examples of our nation's architectural and cultural heritage that are at risk of destruction or irreparable damage."
As a result, Excelsior Springs received a $500,000 grant from the Department of Interior, National Parks Service to go toward restoration efforts.
The Hall of Waters currently functions as a visitors center and is located in downtown Excelsior Springs. The Art Deco building, built in 1935, was constructed by the Federal Public Works Administration in Missouri for $1 million. The interior detailing is described as being influenced by Mayan culture, with accents of deep turquoise framing banks of windows that showcase wooded areas. In a main area, the building houses one of the longest mineral water bars that once served guests.
Known for its natural springs, the city was known as the Spa City, in the heyday of water baths for improved health in the early 20th Century.
According to the website, the Hall of Waters was listed on the Missouri Alliance for Historic Preservation Places in Peril roster with other endangered buildings in 2019.