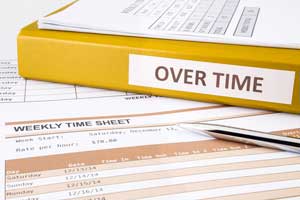 The goal of a new executive action by the Obama administration, is to raise wages for millions of Americans by redefining the salary limit for employees required to receive overtime pay.  Labor Secretary, Thomas Perez says the new rule would raise estimated total wages by over $1 billion annually.
White House spokesman Josh Earnest said the rule is on solid legal ground, while GOP House Speaker Paul Ryan promised that congressional Republicans will fight it.  He argued overtime expansion would be disastrous for the economy.
The National Retail Federation issued a statement regarding the rule saying,  "…with the stroke of a pen, the Labor Department is demoting millions of workers…" David French, a senior vice president for government relations at the NRF, thinks the government is operating under the assumption the middle class can be built through government mandate.  He says there is no "magic pot of money" that would allow employers to increase salary simply because they are told to.
The executive action may prod more instances where businesses, in order to control costs, hire part time workers while cutting salaries or hours.  Without taking such measures, the average business might pay up to $2,400 extra per employee qualifying for overtime pay.
The operative function of the rule, is to effectively double the annual salary threshold at which companies can deny overtime pay from $23,660 to over $47,000.  It would take effect Dec. 1st.
sources consulted:
huffingtonpost.com/Marc Prosser
bloomberg.com/Mike Dorning
usatoday.com
apexchange.com
Matt Griffith is a broadcaster for KMZU 100.7, send story ideas to [email protected]