According to a report released monthly by the Creighton school of economics, farmland prices in the US agricultural heartland have fallen for a 19th month in a row, at an increasing rate, and with the prospect of a rising dollar threatening more pain to come. An index of farmland values in states from North Dakota to Missouri compiled by Creighton University came in at 31.1 for this month, with any score below 50 suggesting price falls. The figure compared with 39.7 for May, and reflected slowdowns across the range of states surveyed.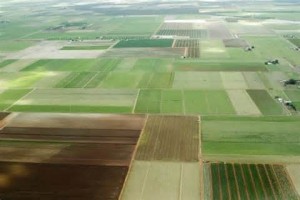 The head of regional economics at Creighton University, Ernie Goss, said there was "a great deal of variation" between states' farmland markets, in all of those surveyed the performance waned last month. Only one state, North Dakota, showed appreciation in land prices, albeit at a slower rate, with an index figure of 56.0. All other states showed readings below 50.0, including the likes of Kansas, where heavy rains last month resolved drought concerns – but have replaced them with worries about excess rains. The sharpest fall in land price outlook – by 21.8 points to 29.1 points – was seen in ranching heartland of Colorado, with Wyoming also seeing an abrupt decline.
Now, with the Federal Reserve gearing up to raise interest rates, besides meaning a rise in borrowing costs, has already lifted the dollar, adding to pressure on values of dollar-denominated exports, such as grains, in making them less competitive on the world stage. In fact, bankers surveyed by Creighton did not foresee an imminent rise, with 40% forecasting no increase until the October-to-December quarter, and a further 28% of lenders believing rates will not be raised until 2016. Even some land investors which were upbeat on long-term price prospects have issued cautious assessments for the near term. The Creighton survey also underlined the softness in farm equipment markets, with an index of US ag machinery sales holding at a record low 12.5 this month – representing a 23rd successive month of decline.