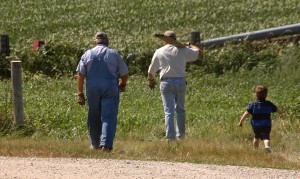 JEFFERSON, CITY, Mo., — The Missouri Farm Bureau and the Missouri Department of Agriculture surveyed 298 farmers across the state. According to a news release,  the "FARMometer" survey included five questions that focused on the outlook, challenges,  and involvement with agriculture.
65% of the farmer's surveys said they had a optimistic views and 27% had a neutral opinion of the outlook of farmers and ranchers today. After asking the respondents what the top five challenges facing the future of their farming operation, farmers said they are commodity/livestock prices, input costs, government regulations, activists groups, and access to affordable health care.
Radio, newspapers, and television were ranked #1 when asked where farmers get their news and information. Almost all of the respondents felt that it was important to be involved in agricultural activates outside of their farming operations.
Lastly, 91% of the farmers surveyed would recommend that their children would follow in their footsteps.
Richard Fordyce, Director of the Missouri Department of Agriculture said, "Even with low grain and livestock prices and the other challenges facing agriculture today, it is not surprising that farmers and ranchers still remain the eternal optimists. It truly is a great time to be involved in agriculture."