Click play below to listen to KMZU's Ashley Johnson speaking with FCS Financial CEO David Janish, Orrick Senior and FFA President Tyler Crow, and Orrick Junior and FFA Secretary Brandon Edney:
David Janish
David Janish
Tyler Crow
Tyler Crow
Brandon Edney
Brandon Edney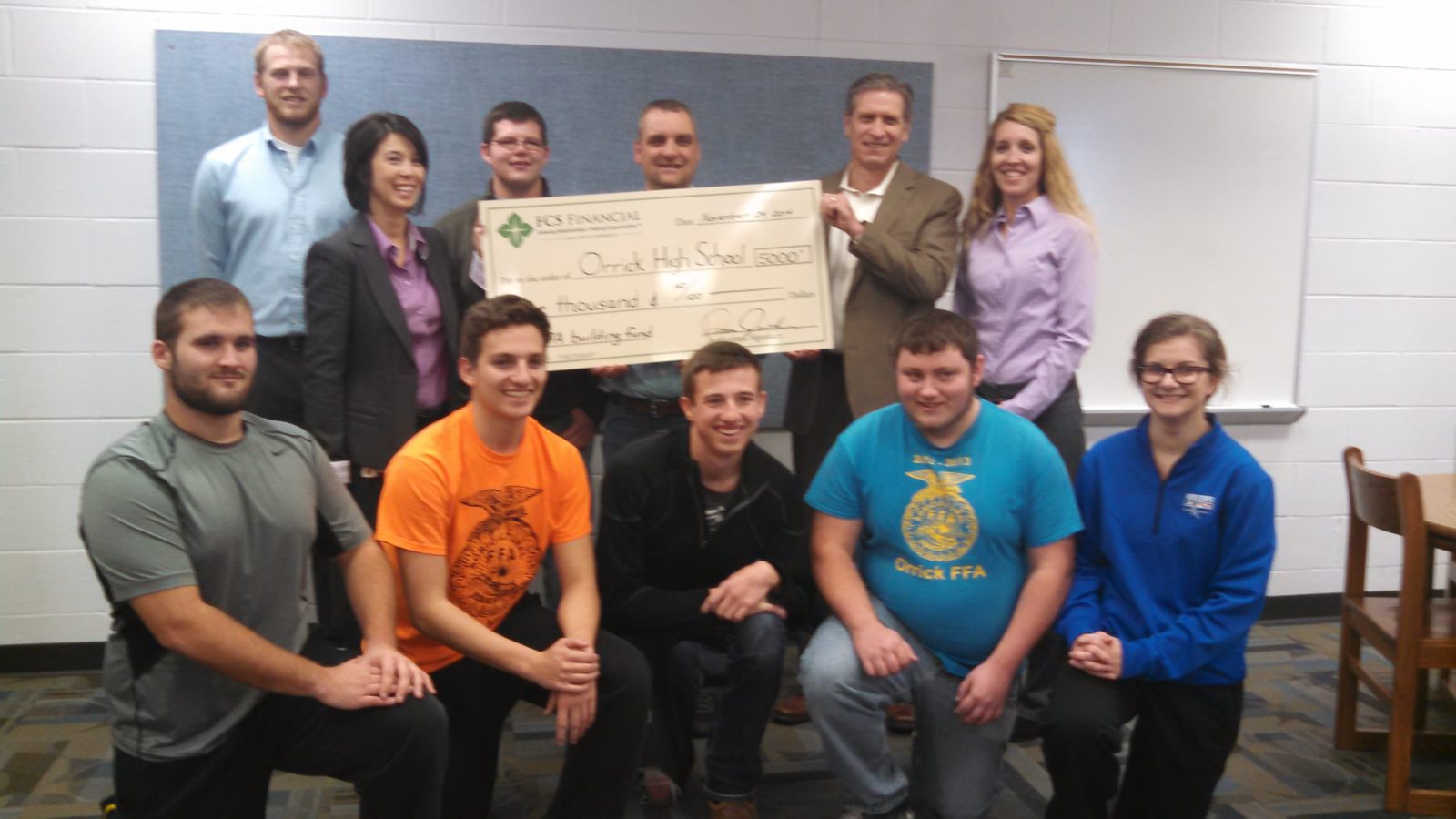 Top Row left to right-  FCS Representative Andy Homfeld, Aerin O'Dell: Superintendent, Patrick Jones: Sentinel, Don Honeycutt: Teacher/Sponsor, David Janish: FCS Financial CEO, and FCS Representative Stephanie Tyler.
Bottom Row left to right- Tyler Crow: President, Mitch Martinez: VP, Brandon Edney: Secretary, Colton Guthrie: Treasurer, Kaitlin Arnold: Reporter.
In May of this year, the town of Orrick was struck by an EF3 tornado that wreaked havoc on the community and the high school.  "We are involved in agriculture and in small community's we understand the importance of school's to these rural community's," said Janish, "So supporting the school systems and local community's in this area is important.  We hope that this will not only impact them but that it will also spur some other organizations to contribute to the cause and help to rebuild this school that was destroyed by the tornado."
FCS Financial decided to help the kids and community and have donated $5,000, in hopes that others will jump on board.  "I just hope that other organizations understand the impact that these kind of disasters can have on rural community's," Janish explained, "I hope they take the time and the effort to get involved and provide some donations, help rebuild the school, and it's important to these kids.  These kids are our future Ag leaders, industry leaders, and future Ag producers, so i think the support that we can give them and encouraging them to continue to be involved in agriculture and to support and have passion for agriculture in rural community's is important."
Orrick's FFA Chapter has suffered the school year in the basement since the tornado took their Ag Building.  "I just want to thank FCS Financial so much for their donation," said Crow, "It means so much, it's going to help us so much, and it's going to benefit our program a lot."
The funds donated by FCS will go to helping these FFA Kids get back to doing what they love.  "We've had to change everything that we've normally done," Edney expressed, "Normally we'd be building things or growing plants and all sort of stuff.  Now we're just kind of from the books and watching instructional video's.  This donation from FCS Financial will help us to re-purpose our greenhouse for new growth and helps us to rebuild our Ag shop shop for all sorts of cool projects.  There's really no down side, so just another big thank you again to FCS.  I don't think they realize how important this is to us and how much we enjoy it."
If you or someone you know would like to help through volunteer work or donating, you can reach Superintendent Aerin O'Dell at phone number 816-770-0094. Orrick high school address is 100 Kirkham St. Orrick, MO 64077.  A very moving video was also created showing the destruction from that fateful day.  It also tells you how you can help.