ST. LOUIS, Mo. — Charges against Missouri Gov. Eric Greitens were upheld Thursday morning in a St. Louis courtroom.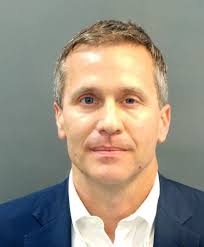 Attorneys for the governor asked Judge Rex Burlison to dismiss the felony invasion of privacy charge leveled against Greitens after he allegedly took a partially nude photo of a woman with whom he was having an extramarital affair in 2015.
Burlison denied the defense's motion and said charges against Gov. Greitens may proceed. The St. Louis Post-Dispatch reported that the announcement was made after more than a half-hour of discussion between Burlison, prosecutors and the defense behind closed doors in Burlison's chambers.
Greitens' legal team was able to score a small win, however, with the judge allowing the defense to take new depositions from witnesses. Burlison admonished the prosecution for their actions, however said he believed those actions could not be "cured," according to the Kansas City Star.
Attorneys for Greitens argued for sanctions on the prosecution, taking umbrage with the decision by St. Louis Circuit Attorney Kim Gardner to hire outside council to assist with the case. They also alleged that Gardner's office manipulated the investigation by withholding evidence. Representatives for the St. Louis Circuit Attorney's Office denied any allegations of tampering with the investigation, however did admit to "mis-steps" in a motion filed in court in March.
Greitens was indicted by a grand jury on the felony invasion of privacy charge in February, spurred on by an explosive report by KMOV-TV in St. Louis about the allegations, released just minutes before Gov. Greitens gave his first State of the State speech.
Greitens faces growing calls for his resignation, however has said repeatedly that he will not step down.
Senate President Pro Tem Ron Richard (R-Joplin) called on the the Missouri House of Representatives to "immediately start impeachment proceedings" against Greitens.
Missouri law requires articles of impeachment to advance through the House of Representatives. If the house were to advance those proceedings, seven "eminent jurists" selected from the ranks of Missouri's circuit court judges would be appointed to ultimately decide the governor's fate.
Greitens, however, remains defiant.
"I will not be resigning the Governor's office," he tweeted Wednesday. "In three weeks, this matter will go to a court of law–where it belongs and where the facts will prove my innocence. Until then, I will do what the people of Missouri sent me here to do: to serve them and work hard on their behalf."
Greitens' jury trial is slated to begin May 14 in St. Louis.