MISSOURI — A kitchen fire has temporarily closed the oldest continuous operating restaurant west of the Mississippi River.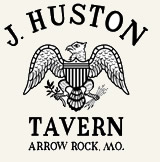 According to a press release, the J. Huston Tavern at Arrow Rock State Historic Site, is closed for the foreseeable future due to a kitchen fire last Friday evening. The fire allegedly began in a compressor of an under-the-counter refrigeration unit.
The kitchen has extensive damage to it.
The fire was contained to the kitchen area.
There is no timetable for reopening.