CHILLICOTHE, Mo. – A reported dumpster fire in Chillicothe, turned out to be a 14 foot trailer attached to a vehicle Friday afternoon.
The call came in just after noon yesterday at 1301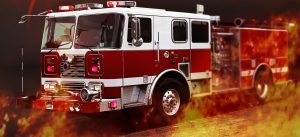 Monroe Street. The trailer was half full of construction debris from a building at that location. The fire was extinguished without damage to any other property. A construction crew at the site said they were eating lunch when the noticed smoke coming from the trailer.
The cause of the fire has not yet been determined.