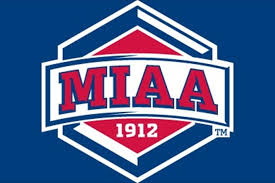 Kansas City, Mo. (Press Release) – The MIAA had three players earn All-America honors released today by the Division II Conference Commissioners Association.
Missouri Southern's Taevaunn earned first team honors after earning first team All-MIAA and first team all-region honors. Prince averaged a double-double scoring 26.4 points while pulling down 10.1 rebounds per game.
Connor Beranek of Nebraska-Kearney earned third team honors averaging 25.0 points and 8.6 rebounds per contest. Justin Pitts of Northwest Missouri earned honorable mention honors averaging 21.7 points and a league best 5.0 assists per game.
First-Team
Seger Bonifant (Sr., G/F, 6-7, West Liberty, W.V.)
Daniel Jansen (Sr., F, 6-9, Augustana)
Taevaunn Prince (Sr., G, 6-3, Missouri Southern State)

Devin Schmidt (Jr., G, 6-4, Delta State, Miss.)
Ryan Stephan (Sr., C, 6-10, Colorado Mesa)
Second-Team
Yunio Barrueta (Sr., G/F, 6-5, Barry, Fla.)
Kyle Cooper (Sr., F, 6-7, Hillsdale, Mich.)
Tyree Gaiter (Sr., G, 5-7, Notre Dame College, Ohio)
Keenan Palmore (Sr., G., 6-2, Lenoir-Rhyne, N.C.)
Desmond Williams (Sr., G, 6-5, Southern Connecticut State)
Third –Team
Andy Avgi (Sr., F, 6-6, Western Oregon)
Connor Beranek (Sr., F, 6-6,  Nebraska-Kearney)

Casey Schilling (Sr., F, 6-6, Augustana)
Gerel Simmons (Sr., G, 6-2, Lincoln Memorial, Tenn.)
Sekou Wiggs (Jr., G, 6-4, Alaska-Anchorage)
Honorable Mention
Terrell Harris (Georgia College),
John Moon (Oklahoma Christian),
Justin Pitts (NW Missouri State),
Eric Siefert (Wheeling Jesuit, W.V.),
Michael Smith (California Baptist)
Two MIAA women's basketball players were named honorable mention All-American released today by the Division II Conference Commissioners Association.
MIAA Player of the Year LaQuinta Jefferson of Missouri Western, who averaged 20.3 points per game, was named honorable mention. Joining her was Emporia State's Kelly Moten who averaged 16.4 points and a league best 5.0 assists per contest.
First Team
Name School Pos. Ht. Class Hometown
Fatima Adams Arkansas Tech
Mariyah Brawner-Henley Lewis
Nicole Hampton Lubbock Christian
Kiana Johnson Virginia Union
Jasmine Kearse Limestone
Second Team
Jen Gemma Bentley
Kelly Hardeman Azusa Pacific
Chelsey Rhodes Delta State
Kierra Simpson West Liberty
Emily Wendling Saginaw Valley State
Third Team
Brittany Hernandez Colorado Colorado Springs
Megan Mullings Alaska Anchorage
Madison Rowland Queens
Farrah Shokoor UC San Diego
Lady Walker Virginia Union

Honorable Mention: Cassidy Mihalko (California Baptist), LaQuinta Jefferson (Missouri Western State), Michelle Mitchell (Columbus State), Jordan Goforth (Arkansas at Monticello), Kelly Moten (Emporia State), Tess Bruffey (Lubbock Christian).