SCHUYLER COUNTY, Mo. –  The Missouri Highway Patrol says a flat tire caused a dump truck to overturn in Schuyler County Friday afternoon.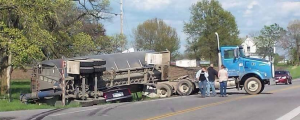 According to the crash report, Dayton Hyle, 27, of Unionville skidded off westbound Highway 136, three miles southwest of Lancaster and hit an embankment.
Hyle suffered moderate injuries when the truck overturned and has been treated at Northeast Regional Medical Center in Kirksville.