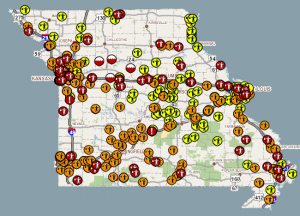 CARROLL COUNTY, MO – The Missouri Transportation Department has noted closings for roads in Missouri due to water over the roadway.
This is accompanied by flood warnings by the National Weather Service that expire Sunday afternoon.
Currently the MODOT traveler information map shows Route E at Turkey Creek, closed from PP to D west of Carrollton. Also east of Carrollton, Route UU is closed in both directions over Big Creek.
In Saline County, Route E is closed both directions north of Sweet Springs and Route ZZ.  Route P is closed at Fish Creek in Saline County.