KANSAS CITY, Mo– The National Pork Producers Council has urged Congress to make foot-and-mouth disease a priority. USDA's plan to address an outbreak, should one occur, is utilizing a FMD vaccine. NPPC immediate past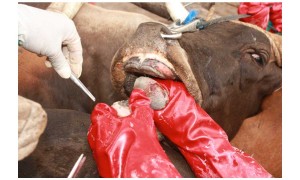 President Dr. Howard Hill told a subcommittee of the House Agriculture Committee, the plan needs the resources required to protect livestock
"Our issue is that if this is the plan, we need to have the vaccine bank that would be readily available and then have also have surge capacity to increase that rapidly," explained Hill, "Which currently, it's not in existence."
There's about 1.9 million dollars, which is what Hill calls, just a drop in the bucket as to what would be needed to have an effective vaccine and a response to use the vaccine in an effort try to protect the entire livestock population in the United States. Currently the USDA should be able to provide 2.5 million doses of the vaccine, well short of the estimated need.
"There's no surge capacity and it's estimated that we'd need 40 million doses right away to circle vaccinate around an outbreak." Hill stated, "So, we would have to have considerable improvement in this, quote, vaccine bank– we call it, or capacity to really have an effective vaccination program as APHIS has described."
FMD, a foreign animal disease endemic in Africa, Asia, South America and the Middle East, can affect all cloven-hoofed animals. While it rarely infects humans and isn't a food safety issue, an outbreak in North America, which currently is free of it, would be devastating to agriculture and the overall economy
"With increase in international trade, the risk just continues to get higher." Hill explained, "One of the Ag economists told us that the price of pigs would drop 50 percent the next day because it would shut down our exports. But, this affects other species, too so it affects sheep and cattle. So, it would have a devastating effect."
The ramifications beyond just the livestock, Hill said, would affect the price of corn and soybeans. In turn, it would have a huge economic impact on not only the agricultural industry, but then the overall economy.
Hill stated Congress needs to find funding for the vaccine program to have a plan in place in case the disease is ever found in the United States.