UPDATE:  10:30 a.m., 5/21 – The man involved in a multi-county pursuit Tuesday is wanted for murder in Johnson County, Kansas.
According to Livingston County Sheriff, Jesse Monreal who is charged with 1st degree murder, and attempted robbery in Kansas, is expected to be extradited to Kansas. Monreal also is charged in Lafayette and Livingston County with several counts of stealing and receiving stolen property related to vehicle theft. Two other suspects with Monreal are at large, but believed not to be in the area, due to the alleged theft of a truck from Blue Mound rock quarry.  Area law enforcement are also working with U.S. Marshalls in the case.
LEXINGTON, Mo. — Formal charges are now filed against a Kansas man who was allegedly connected to a stolen vehicle incident, which led to a pursuit Tuesday.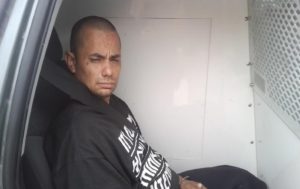 Jesse M. Monreal, 35, is facing 3 counts of stealing, along with resisting arrest and trespassing in Lafayette County, according to court documents. Livingston County Sheriff Steve Cox says he has been charged with felony receiving stolen property in Livingston County.
Police say Monreal was involved when a car was stolen in Lafayette County. He was later found hiding in Livingston County.
Two other suspects involved have not been found. Court in both counties denied bond for Monreal. He is scheduled for a court appearance in Livingston County Thursday, May 21 at 1:30 p.m.
A court date is pending in Lafayette County.