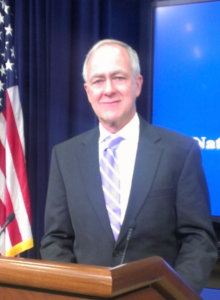 UPDATE: 10/26/17 – The name of former Cooper County Clerk, Darryl Kempf, came up during a regularly scheduled audit of Cooper County. Missouri Auditor, Nicole Galloway is looking further into the allegations of improper use of funds by Kempf. Kempf pleaded guilty to stealing from County funds in September. A six month jail term was suspended in favor of probation. Galloway says, Kempf leased a Toyota Tundra in the name of the county, which he then terminated, using a combination of personal and county funds to purchase the vehicle. He had prepared paperwork to gift the truck to himself. After the lease was paid, Kempf attempted to use county funds to make nearly 24 thousand dollars in additional payments, saying he was converting the truck back to the county, for the purpose of obtaining a refund of personal funds spent on the lease. The vehicle was described in Galloway's audit, as extravagant, and unnecessary, and was the second such vehicle paid for in this manner.
BOONVILLE, MO: 09/29/17 – A former County Clerk pleaded guilty Friday in a case alleging theft of property.
According to court documents, Darryl Kempf, 66, pleaded guilty to a misdemeanor, stealing or theft of property less than $500. Kempf reportedly leased a truck, May of 2014 on behalf of Cooper County. After making 28 of 36 lease payments, Kempf requested a county check totaling over $4,800. A deputy clerk said she was unaware of subsequently signing over the truck to Kempf as a gift. Kempf will serve 6 months incarceration, and be placed on two years unsupervised probation.
Kempf submitted a letter of resignation Friday in tandem with his guilty plea, saying he no longer wishes to fight the politically motivated issues he has recently had to address. He served as County Clerk for over thirty years.