JEFFERSON CITY, Mo. – An investigation by the Missouri Ethics Commission has absolved former Lexington City Administrator Joe Aull of any wrong doing.
In a letter posted June 4, 2019, by Director Elizabeth L. Ziegler, it states; "The investigation found no evidence to support the allegation that Mr. Aull used city resources to advocate, support or oppose the ballot measure." The complaint alleged that Aull, most likely, violated the provisions of the Missouri statute that prohibits the use of public funds for those purposes.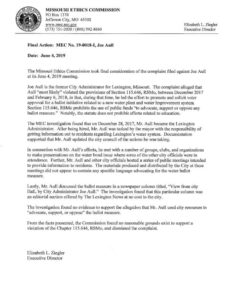 The letter acknowledges that Aull used city resources and attended public meetings for the purpose of educating the public about a proposed water bond issue.