LINN COUNTY, Mo. — The North Missouri Drug Task Force announced Thursday that officers in conjunction with the Linn County Sheriff's Office and Brookfield Police Department carried out a search warrant in the 19000 block of Highway 11 in Saint Catherine, located in Linn County shortly before 11:00 a.m. on Monday.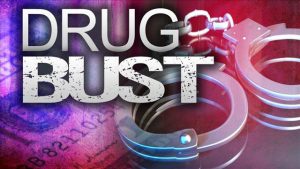 Officers seized meth, marijuana, syringes and other drug paraphernalia in the sweep. In addition, four Saint Catherine residents were taken into custody.
53-year-old Jerry McCollum and Alisha McCollum,26, are both charged with felony delivery of a controlled substance and two counts of possession of a controlled substance. In addition, Jerry had an active parole warrant. They both had bond set at $50,000.
Two others arrested, 55-year-old Charles Ellis and 60-year-old Margaret Tipton both face two counts of possession of a controlled substance as well. Tipton had an outstand warrant and had bond set at $25,000. Bond for Ellis is $20,000.