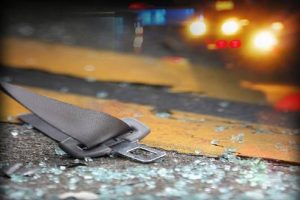 BUCHANAN COUNTY, MO – A four car pileup in Buchanan County injured several occupants Wednesday morning.
According to a crash report, a vehicle driven by Andrea Popejoy, 32, of Falls City Nebraska was involved in the collision on an exit ramp. The vehicle struck the rear portion of a second vehicle stopped at a light on the exit ramp from I-29 onto 169 Highway. The collision caused a chain reaction that involved four automobiles.
Popejoy, and occupant, Soleai Hanvan, 5, were seriously injured. A third occupant Adelia Pilcher, 1, received minor injuries. None of the occupants were wearing safety devices. Minor injuries were also reported by occupants in the other vehicles, including Elaine Thompson, 75, of Gower, Robert Thompson, 75, of Gower, and John Turner, 49, of St. Joseph.  All injured persons were transported to mosaic life care.