BOONE COUNTY, Mo. – The Missouri Highway Patrol confirmed that four people died in a six car pileup near Columbia,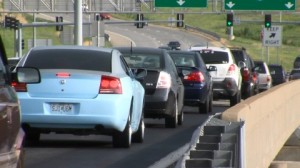 around noon Wednesday.
The crash occurred on westbound Interstate 70, near the 133 mile marker. The victims are not being identified and the official report has not been released at this time. Two tractor trailers and two cars were known to be involved. At least one other person was transported to a local hospital for treatment.
Traffic on westbound I-70 was detoured until around 4:30 p.m. yesterday afternoon.