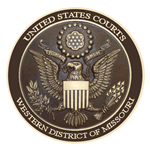 The Department of Justice has announced the sentencing of Four Mexican Nationals on May 21st after admitting guilt to charges of conspiring to produce and sell false identification documents.
The four co-defendants pleaded guilty to producing false Social Security cards, Lawful Permanent Resident cards and driver's licenses from several states between September of 2013 and February of 2014.  Investigators have estimated that they sold more than 7100 fake identification documents to illegal aliens in the U.S.
Eriberto Moises Medina-Aranda, 40, of Rayville, Mo. has  been sentenced to 10 years in prison without parole.
Cesar Mujica-Aranda, 25, a Mexican citizen, but living in Liberty, Mo. was sentenced to 5 years in prison without parole.
Barnardino Bautista-Hernandez, 33, a citizen of Mexico , living in Kansas City, Mo. has been sentenced to one year and one day in prison without parole.
Ulises Montiel-Lazcano, 35, also a Mexican citizen and living in Merriam, Ks. was sentenced to 11 months in prison without parole.
In addition to prison time, the four must surrender $403,700 in proceeds from the illegal sale of the false documents.