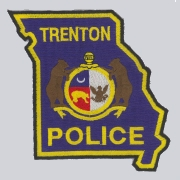 TRENTON, MO – Four local officers were distinguished Friday, February 3, as they were awarded the 2nd highest honor given by the Trenton Police Department.
According to a press release, officers were called to the scene of a disturbance involving an armed man.  Chief Tommy Wright said the four officers placed themselves in harms way as they negotiated with the man, to prevent him from harming himself and others. He was taken into custody without incident.
During a presentation Friday, officers, Jennifer Plummer, Tyler Anderson, Detective Gerald Smith, and Sgt. Larry Smith were given the award.
The Distinguished Service Medal is given to officers who hazard life or limb under adverse conditions, while preventing death or injury to a third party.  Missouri Highway Patrol was also recognized for their assistance.