MACON COUNTY, Mo. – A Huntsville teen was hospitalized after an all-terrain-vehicle crash in Macon County Thursday.
The Missouri Highway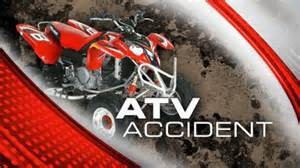 Patrol reports that Trent Wunderlich, 14, was westbound on Route T, two miles West of College Mound around 5:45 yesterday, when the crash occurred. Wunderlich attempted to turn in the roadway and the ATV overturned, ejecting the rider.
Wunderlich was transported to University Medical Center in Columbia with moderate injuries.