Harold House with the Kansas City Trade Group takes a look at how the markets are kicking off the end of the week trading day. Click below to hear KMZU's Mandy Young talk with Harold House from the Kansas City Trade Group.
Early Livestock:
Lean hog contracts should open moderately higher, supported by residual buying and ongoing cash strength. The cattle complex is expected to stage a modest bounce following Thursday's triple-digit break as traders cover shorts and take profits before the surfacing of cash business.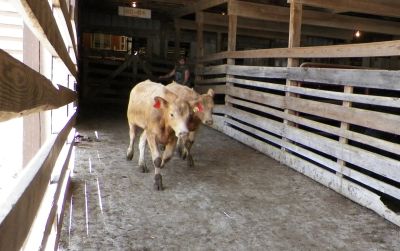 Cattle:     Cash: Steady     Futures: 10-30 Higher   Live Equiv.  $140.72 – $0.46
We're not quite sure how short-bought cattle buyers made it all the way to Friday without securing additional inventory, but we can expect significant cash business to surface sometime between late morning and early afternoon. The bigger question may be whether or not they will be forced to match the bids of last week in order to move sufficient number. Opening bids should be around $122 to $123 in the South and $198 in the North. Nominal asking prices will be restated around $126 to $127 in the South and $202 to $203-plus in the North. Live and feeder futures are geared to open moderately higher, supported by short-covering and pre-cash positioning.

Hogs:       Cash: Steady- $0.50 Higher      Futures: 10-30 Higher    Lean Equiv.  $102.26 – $0.05
While the late-week cash hog trade may be a relatively slow affair, packer bids should retain their firm undertone. A sharper focus can now be trained on the Saturday kill, expected to a total between 180,000 and 182,000 head. Lean contracts should begin on a firm basis, powered by follow-through buying and the strong cash evidence.
Early Grains:
Corn and soybeans were higher for much of the overnight session with contracts trading near session highs early Friday morning. Wheat was under pressure once again on headlines that South Korea has joined Japan in suspending tenders on U.S. wheat, with the possibility that Taiwan could do the same. Soybeans at the Dalian Exchange were mixed while Malaysian palm oil contracts were higher.
Outside Markets:
Outside markets were mostly bearish with the U.S. dollar index up again, Dow Jones Industrial Average futures down, and metals and energies also under pressure.  The Dow Jones Industrial Average closed 21.73 points higher Thursday at 15,324.53.The overnight session saw the Dow Jones futures trade 94-points lower, indicating U.S. stocks could see selling interest Friday. The overnight crude oil market was $0.59 lower at $93.02 while Brent crude was $0.51 lower at $101.68. The June gold contract lost $1.40 at $1,410.60, while the U.S. dollar index gained  0.313 at 83.355