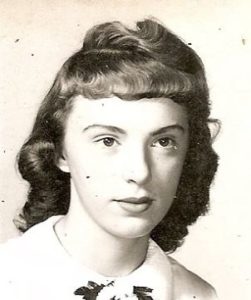 Frieda Elaine Feo, 75, of Lexington, passed away March 25, 2020 at Riverbend Heights Nursing and Rehabilitation, Lexington. Cremation with burial at Floral Hills Cemetery, Raytown, has been entrusted to Walker-Nadler-Fuller Funeral Home. There will be no services at this time. Memories and condolences may be left at www.LedfordFamilyFH.com.
Frieda was born December 26, 1944 in Kansas City, Missouri to Ferdinand D "Buster" and Eveline Ester (Clevenger) Berglund. She enjoyed cooking, sewing, and caring for those she loved. She worked as a secretary for several companies, including OOIDA in Grain Valley, and volunteered when she was able. She married Tony Feo who preceded her in death. Frieda was Catholic by faith and her relationship with God gave her comfort.
Survivors include her daughters, Sandra Erickson of Cheyenne, Wyoming and Rebecca Steeves of Colorado Springs, Colorado; three grandchildren and two great grandchildren. Frieda was preceded in death by her parents and her husband.