LIVINGSTON COUNTY, Mo. – A Livingston County deputy attempted to arrest a fugitive who fled then pointed a firearm at the deputy Saturday afternoon.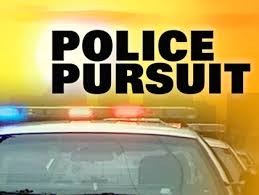 According to the press release from Sheriff Steve Cox, the deputy attempted to stop the fugitive on a motorcycle around 4:30 p.m. in Western Livingston County. A pursuit ensued on westbound 36 Highway, that reached speeds over 100 miles per hour. The suspect turned around on 36 Highway then exited at Mooresville. The suspect crashed after pulling into a church yard and fled on foot. The officer gave pursuit and the suspect turned and raised a nylon carry bag with his hand inside. The deputy ordered the man to drop the bag and he correctly tossed it into some tall weeds. After the arrest, a handgun was found inside the nylon bag along with methamphetamine and drug paraphernalia. The suspect is under guard at Hedrick Medical Center at this time.
Additional information will be provided Monday, July 15.