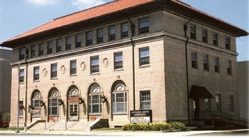 CHILLICOTHE, Mo – The Livingston County Library in Chillicothe, Missouri, is planning to host 'Fun for Everyone', which is styled as a family event for all ages.
Candy Warren, with the County Library, says they have hosted 'age appropriate' after-school events in the past.  This time they want to be more inclusive, and expand to all age groups.
In a recent interview with KMZU's Ashley Johnson, Candy Warren talks about the upcoming event and how to register.
Projects have been planned for several different age groups beginning with children ages 3 and up.  Children must be accompanied by an adult.
The event is set for Monday, February 22, 2016 from 4 p.m. – 5 p.m.
Registration is required, and runs from January 25 – February 10.  Required information includes:  Name and age of children, phone number, and name of adult attending.
More information can be acquired by calling the Children's Department at (660)-646-0563.
Also email:  candy@livingstoncountylibrary.org.
Dial-a-story:  1-(660)-240-8850 – for the featured, weekly story read by a librarian.