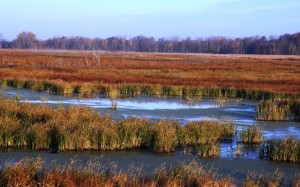 MISSOURI – Before the 1800's Missouri use to tout an impressive 4.8 million acres of wetlands, mostly across the southeastern portion of the state, through cultivation for farming that number has dwindled to a low of approximately 640,000 acres.
The USDA is reporting that it's department of Natural Resource Conservation Service, NRCS, has $5.2 million available to restore wetlands in Missouri through working with landowners. Wetlands are areas considered to be saturated with water for all or most of the year, according to a release from the USDA.
There is also $383,500 government dollars in easement projects. The landowner and the land itself has to meet some requirements, and Harold Deckerd, the Assistant State Conservationist for water resources explains in an interview with KMZU's Ashley Johnson.
An appraiser will look at the land to determine if it fits the NRCS's needs. Deckerd says they are not looking for prime farm land, simply land that is or can be made uneven and un-level to hold water to become wetlands. Depending on the location, landowners have been receiving anywhere from $3,210 an acre, to $5,000.
Since the all-time low of 640,000 acres of wetlands in Missouri in the 1980's, there is now roughly 1 million acres. NCRS claims a restoration of 154,000 acres through its program since 1992. It is reported that last year 868 acres of wetlands were restored in Missouri through this program.
Applications must be submitted by December 15, 2015, to be eligible for the current allotted funding.
Deckerd encourages everyone to help improve our natural resources. For more information on the NRCS funding you can visit your local field office or call Deckerd directly at (573) 876-9421.