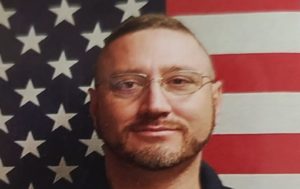 MAYSVILLE, Mo. – Funeral services for Dekalb County Sheriff Andy Clark will take place on Wednesday, June 10, according to a sheriff's department announcement. Clark was killed in a crash on June 3 while responding to help a deputy.
Dekalb County Sheriff's Department said there will be no public visitation or funeral service. However, the public may pay their respects during graveside services. That is scheduled for 1:30 p.m. Wednesday at Oak Cemetery in Amity. Guests are asked to arrive no later than 12:45 p.m.
A public memorial stands on the courthouse lawn for individuals to place flowers, signs and messages of support to the family. In lieu of flowers, the family requests donations to the Junior Deputy Program for the DeKalb County Sheriff's Office, P.O. Box 350, Maysville, MO 64469: Oak Christian Church, 8875 MO-6 Highway, Amity; or the Hypoplastic Left Heart Syndrome (HLHS) Foundation, c/o Ryan & Kim Mason, 24475 Millwood Road, Easton, KS 66020.