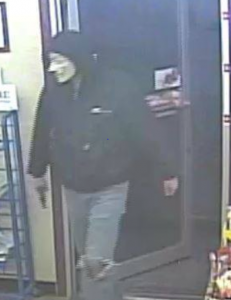 RICHMOND, MO – A convenience store in Richmond was robbed at gun point during the early morning Tuesday.
Reportedly, shots were fired, and cash and  cigarettes were stolen from Casey's General Store on West Main. According to a statement by Richmond police, one suspect was shown in video footage to be a white male, approximately 6ft tall, wearing a black Carhartt style coat , blue jeans with a large hole in the left knee, dark shoes with white soles, and a mask. He was also reported to have a very deep voice.
A second suspect remained outside and was also masked wearing a green hooded sweatshirt.
The gun used is believed to be a .38 revolver.  A shot was fired into wall behind the cashier.  No one was injured during the robbery.
Anyone with information is urged to call Richmond police dept, or 816-776-3575 and ask for either Detectives Peterson or Bagley.