Gertrude J. Leonard, 97, of Keytesville, MO, died Thursday, September 19, 2109 at the Glasgow Gardens Nursing Home in Glasgow, MO where she had been residing.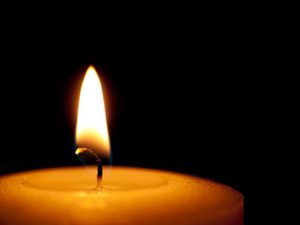 Gertrude was born July 11, 1922 in Mendon, MO the daughter of Philip and Adeline (Zapp) Speichinger. She married Rufus W. Leonard and he preceded her in death on August 22, 1948.
Gertrude was one of 10 brothers and sisters, she was the second oldest: Robert, Gertrude, Vincent, Sr. Raphael, Monsignor Lawrence, Loretta, Anna Rose, James, Eugene, Marjorie.
She was a member of the St. Joseph Catholic Church in Salisbury, MO. She will be remembered by her love to have "dinner" parties and if anyone stopped by in the afternoon they were rewarded with "refreshments" but not after there was some chore that you could provide. She never left any talent go to waste.
Gertrude is survived by three children Charles Leonard (Willis) of Keytesville, MO, Lula E. Marcusson of Salisbury, MO, and Helen Leonard of Warrensburg, MO, grandchildren Beverly (Steve) Atkinson, Chuck Leonard, Annette (Jerry) Widmer, Diana (Jeff) Matthews, Tina (David) Atkinson, Erica (Eric) Iman, Nick Pinkston, Natalie (Phillip) Sadler, 27 great grandchildren, 4 great great grandchildren, brother James Speichinger, sisters Loretta Adams, Marjorie Speichinger, sister-in-law Leigh Speichinger, several nieces and nephews. She was preceded in death by her parents, husband, brothers Robert Speichinger, Vincent Speichinger, Sr. Raphael Speichinger, Monsignor Lawrence Speichinger, Eugene Speichinger, and sister Anna Rose Speichinger.
Mass of Christian Burial will be held at 2:00 p.m., Monday, September 23, 2019 at St. Joseph Catholic Church, with burial following at St. Raphael Cemetery in Indian Grove. The rosary will be said prior to the Requiem Mass at 1:30 p.m. In lieu of flowers the family request that Masses be said for the deceased. Refreshments will follow the graveside at the Old School House in Indian Grove. Services entrusted to Summerville Funeral Home in Salisbury, MO.