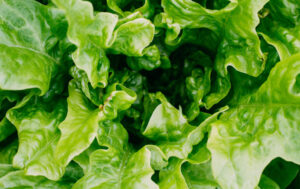 Listen to the audio story below:
A good dose of rain and warmer temperatures has gardeners ready to roll up their sleeves and get to it. Nancy Kreith, a horticulture extension educator, says we're not quite ready to go all in yet.
"I'd say we still have two-to-three weeks before we're ready, depending on where you're at," she says. "What you want to do is look for your local frost-free date from the National Weather Service or your local weather forecaster to determine when they're predicting the last frost. And so, for our cool-season crop varieties, such as lettuce and other root crops, you could plant those four-to-six-weeks before that frost-free date."
Kreeth says early-season garden crops, like spinach, can be put in the ground as soon as you can work the soil.
"The hardiest of all the crops will be your broccoli, brussels sprouts, cabbage, kale, kohlrabi, leek, onions, peas, rutabaga, spinach and turnips. As soon as you can get out there and work the soil, then those can get planted because they're really tough plants," she says.
With Missouri's unpredictable  weather, she suggests waiting a little longer on less-hardy plants so they won't get caught in a surprise frost.
"You always want to give yourself a little bit of wiggle room," Kreeth advises. "I usually give it another week (after the frost-free date) to plant the warm-season stuff like tomatoes, peppers, and cucumbers, because they're not going to tolerate any kind of frost as they're very tender. That means you wait until things look good in the clear, and after waiting a week or two beyond that date, you'll still have time left in the growing season to get a good crop."
Most "half hardy" crops, like carrots and radishes, can replanted from mid-July to early September. 
"Those are the vegetables that will fall between the hardy and your tender vegetables," she says. "So, the half-hardy vegetable list includes a lot of your root crops, like beets, carrots, potatoes, cauliflower, Chinese cabbage, leaf lettuce, mustard greens, parsnip, Swiss chard and radishes. And so, those you could plant two-to-three-weeks before that frost-free date in your area."
To view the National Weather Service's average last spring frost date in your area, click here.