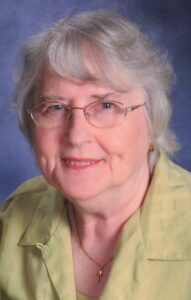 Glenda Mae Curtner, 80, of Kansas City, formerly of Richmond, died Thursday, July 15, 2021, at McCrite Plaza at Briarcliff, Kansas City.
Glenda was born on December 13, 1940, in Trimble, the daughter of Glen Woodson and Hazel Mae (Newman) Groom. She was united in marriage to Elmer Eugene Curtner of Richmond on October 3, 1965; he preceded her in death on September 8, 2020.
Survivors include: daughter, Nancy (Brian) Allenbrand of Kansas City; two grandchildren, Derrick Max Allenbrand and Katherine Cherie Allenbrand; two brothers, Ben (Sherrie) Groom and Robert William Groom, both of Gower; three sisters, Sherri (Pat) Lilly of St Joseph, Ella Lee Williams and Betty (Chuck) Anderson, both of Liberty; and a sister-in-law, Diane Groom, from Arizona.
She was preceded in death by her parents, husband, and brother, William "Bill" Groom.
Glenda was reared in the area of her birth, then attended the Missouri School for the Deaf in Fulton. In addition to being a housewife and home maker, Glenda worked first for Linda Lane Garment Factory in Excelsior Springs, then for Shirkey Nursing and Rehab in Richmond for many years, until she retired. She was a well-loved member of the Richmond First Baptist Church. She enjoyed sewing and watching the Hallmark channel.
The family suggests memorial contributions be made to the Richmond First Baptist Church. They can be left at or mailed to Thurman Funeral Home, 507 East Main Street-P.O. Box 190, Richmond, MO 64085.
Visitation with memorial services will be held on Saturday, July 24, 2021, at the Richmond First Baptist Church, with visitation beginning at 10:00 A.M., with services to follow at 11:00 A.M. Inurnment following services in Richmond Memory Gardens. Please remember to share your memories of Glenda with the family by visiting www.thurmanfuneralhome.com.