CARROLL COUNTY, Mo. – A case review will be held this morning, Aug. 1, in a Carroll County vehicular death case.
Dustin M. Goodale, 31, will appear at 11:30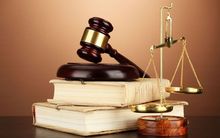 a.m. on a felony count of driving while intoxicated involving the death of another and misdemeanor careless and imprudent driving involving an accident. Goodale was the driver of a vehicle that overturned near Carrollton in July of 2018.
Andrew Waters, then 29, of Carrollton, died of injuries sustained when he was ejected from the vehicle.