Press Release-
COLUMBIA, Mo. – Gov. Jay Nixon joined advocates, parents and caregivers at the Thompson Center for Autism today to announce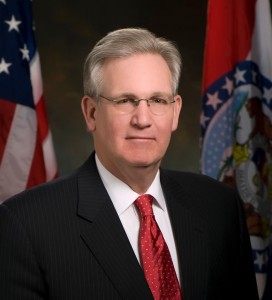 that his Fiscal Year 2017 budget will include historic investments in services for Missourians with developmental disabilities, including $5 million to expand the Thompson Center.  The expansion will allow the Thompson Center to accommodate an additional 2,000 visits per year by expanding dedicated research and training space, and train 100 more providers over the next five years to alleviate the shortage of autism services in Missouri.
"Here in Missouri, we believe that all children – including those with autism – deserve the opportunity to live up to their God-given potential," Gov. Nixon said. "From passing landmark autism insurance legislation to expanding access to in-home services through the Partnership for Hope, we have made Missouri a nationally-recognized leader in caring for our most vulnerable citizens.  This year we will build on this legacy with historic investments in services for Missourians with developmental disabilities, including a major expansion here at the Thompson Center."
The Governor's budget will also include $1 million to help launch an autism clinic at Truman State University and $500,000 to expand services at the Mercy Kids Autism Center in St. Louis and St. Charles counties.
"Our researchers come from many disciplines across the university, from medicine to psychology to genetics to engineering. Bringing all their labs under one roof will make it easier for individuals with autism to participate in our research studies and foster even more innovative collaboration among our faculty," said Thompson Center Executive Director Dr. Stephen Kanne. "We'll also be able to expand our clinical services to accommodate more than 2,000 additional clinic visits each year, getting more children the diagnostic and treatment services they need."
The expansion will also improve infrastructure to support research studies on patients with autism. Training capabilities will also grow with the expansion. The additional space will allow for large-scale on-site training of health professionals and educators in autism best practices for diagnosis, treatment and educational techniques. The center provides more than 8,000 instances of online and in-person professional and parent trainings annually.  The center also expects to offer greater capacity for newer programs that promote autism best practices in the community and supporting families. Examples include monthly Parent Workshops, Autism Friendly Business training, and a new program called STRIVE that supports educational and vocational goals of teens with autism who are transitioning to adulthood.
"As more and more children are diagnosed with autism spectrum disorders, the demand for the life-changing services provided at the Thompson Center continues to grow," said MU Interim Chancellor Hank Foley. "The Thompson Autism Center is a vital asset to our university and to children and families throughout the region. I thank the Governor and leaders in the General Assembly for helping to make this project a reality."
The Governor's budget for Fiscal Year 2017, which he will present next week in his State of the State address, will invest a total of $131 million in additional state and federal funding for the Department of Mental Health-Division of Developmental Disabilities. This includes an increase of $14 million to ensure that there is no waiting list for in-home Medicaid services for Missourians with developmental disabilities.
The Governor's budget will also include more than $73 million in state and federal funds for providers of these essential services, including a 3 percent rate increase and rebasing to ensure all providers are paid fairly.
In 2010, Gov. Jay Nixon spearheaded the bipartisan effort to pass the law mandating the coverage of autism diagnosis and treatment. For the first time, insurance companies were required to cover one of the most highly effective types of therapy, Applied Behavioral Analysis, or ABA. While effective, the cost of ABA can exceed tens of thousands of dollars a year, making insurance coverage necessary for most families.
That same year, Gov. Nixon created the Partnership for Hope, which provides home- and community-based services to Missourians with developmental disabilities and their families. The Partnership for Hope, the first of its kind in the nation, is now helping more than 2,700 people with developmental disabilities in 99 counties and the City of St. Louis. These efforts brought the waiting list for in-home services for low-income Missourians with developmental disabilities down to zero for the first time in decades.
In 2015, United Cerebral Palsy ranked Missouri third in the nation – and second most-improved since 2007 – for providing quality services that improve the lives of individuals with intellectual and developmental disabilities and their families.